Dental Water Flosser Oral Irrigator Teeth Cleaner
Looking for a dental flosser for your teeth and oral care hygiene? Choose this great recommended oral device, a cordless advanced water flosser, oral irrigator that is excellent for oral care, convenient, and easy to use.  Dental irrigation is an ideal means of removing food particles, debris, and the plaque that builds up between your teeth. The high water pressure helps to clean your teeth well and is better than normal dental floss, especially hard to reach the area in between your teeth. The dental teeth cleaner removes the bacteria from your mouth that can harm both your gums and tooth enamel by flushing out the pockets in your gums. Regular use of an oral irrigator is believed to improve gingival health. The devices may also provide easier cleaning for braces and dental implants
Buy now this excellent dental water flosser that is great to protect your teeth from the cavity and for good oral hygiene and freshness of breath all day long!
Features:-
High-quality, FDA certification dental care, cordless water floss with 5 modes of high water pressure to clean your teeth.
The dental water jet is a great dental care device that uses a stream of high-pressure pulsating water intended to remove plaque and food debris between teeth and below the gum line effectively, better than dental floss.
The portable dental teeth water jet cleaner is USB rechargeable and convenient to carry around.
The dental floss oral irrigator has an innovative design with a large water storage capacity of 300ml so that water is sufficient during use which saves time from doing refills.
The dental cleaning device has a gravity ball on the suction end so that it can also spray water when it is inverted. The scientific gravity ball is designed to allow water to discharge from any angle. Such a feature in the dental teeth cleaner enables the oral device to wash the inside of your teeth.
The cordless dental care device is suitable even on sensitive teeth, fit for deep cleaning and efficient for daily teeth and oral cleaning.
There is 6 nozzles that can be fitted to this dental care device:- 1) Tongue cleaner to remove tongue coating that causes bad breath 2) two classic jets to remove the oral cavity and clean hard to reach area of the teeth 3) toothbrush for general teeth cleaning 4) periodontal tip to remove dirt and bacteria from the periodontal pocket and 5)orthodontic tip to clean dental braces

Product Description
1.Product Name: Oral Irrigator For Adults
2.Housing Material: 100% High Quality ABS
3.Water Tank Material: 100% High Quality PC
4.Features:
Multifunctional / IPX7 Waterproof / 5 Adjustable Work Modes / Strong Water Pressure /  Convenient Portable USB Charging / Detachable Large Capacity 300ml Water Tank / 5 x Different Function Nozzles,1 x Toothbrush Head / 360° Rotating Nozzles / Unique Gravity Ball Design / Waterproof Plug & Dustproof Plug Design
5.Certification: CE / FC / FDA
6.Power Adapter Input Voltage: Compatible With Global Voltage(100~240V)
10.Water Tank Type: Detachable Large Capacity 300ml Water Tank
11.Pulse Frequency: 1200 Times / Min
12.Water Pressure Range: 30-110 PSI
13.Battery Type: Rechargeable 2000mAh Lithium Battery
14.Charging Mode: Convenient Portable USB Charging
15.Charging Time: 5 Hours
16.Working Time Of Fully Charged: 12 Days (Work Twice Each day) Or Continuous Work 80 Minutes
17.Package Size: Approx 25cm x 12cm x 7.5cm
18.Package Weight: Approx 0.65kg
Package Included:
1 x Oral Irrigator(Not Include Nozzles)
1 x USB Charging Cable(Not Include Power Adapter)
Warning Tips:
1.Please read all instructions carefully before use.
2.If you want to use with mouthwash or anti-bacterial rinses, follow the suggestions of your dentists or hygienist.
3.Don't face to your eyes when you turn on the Oral Irrigator.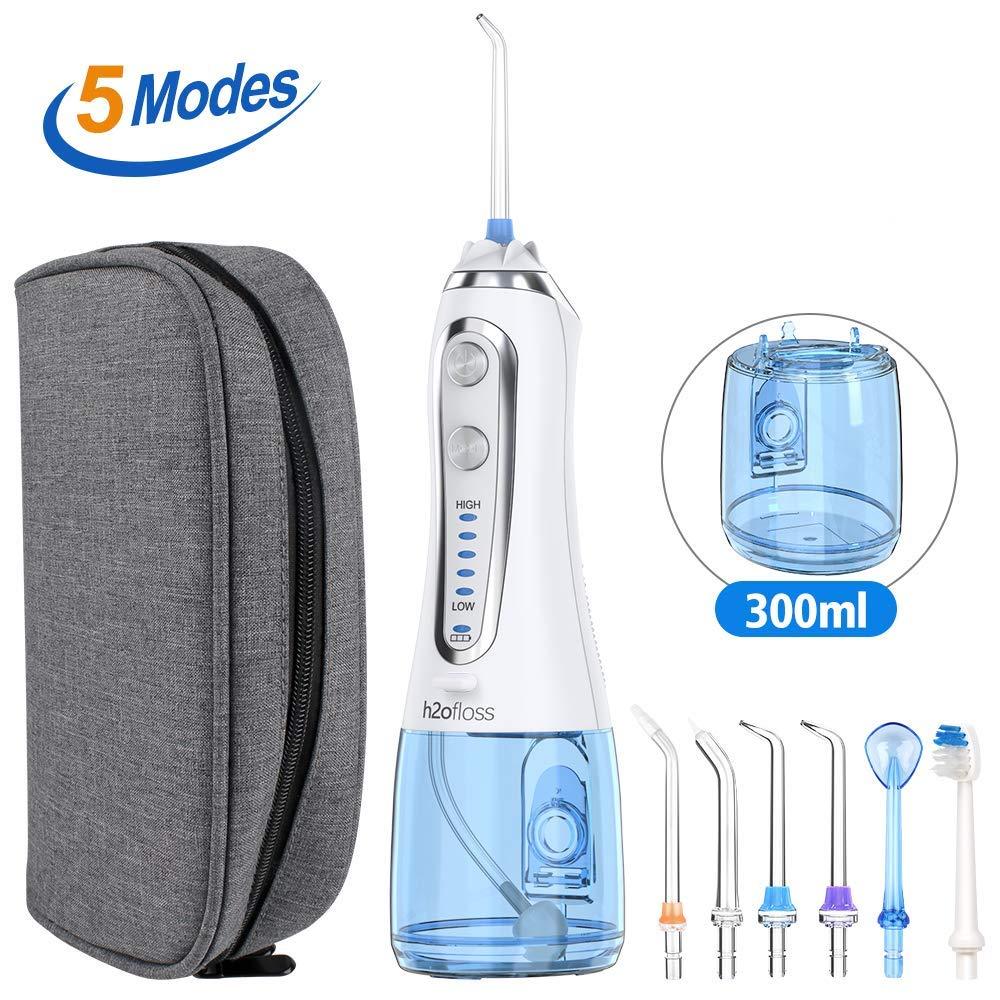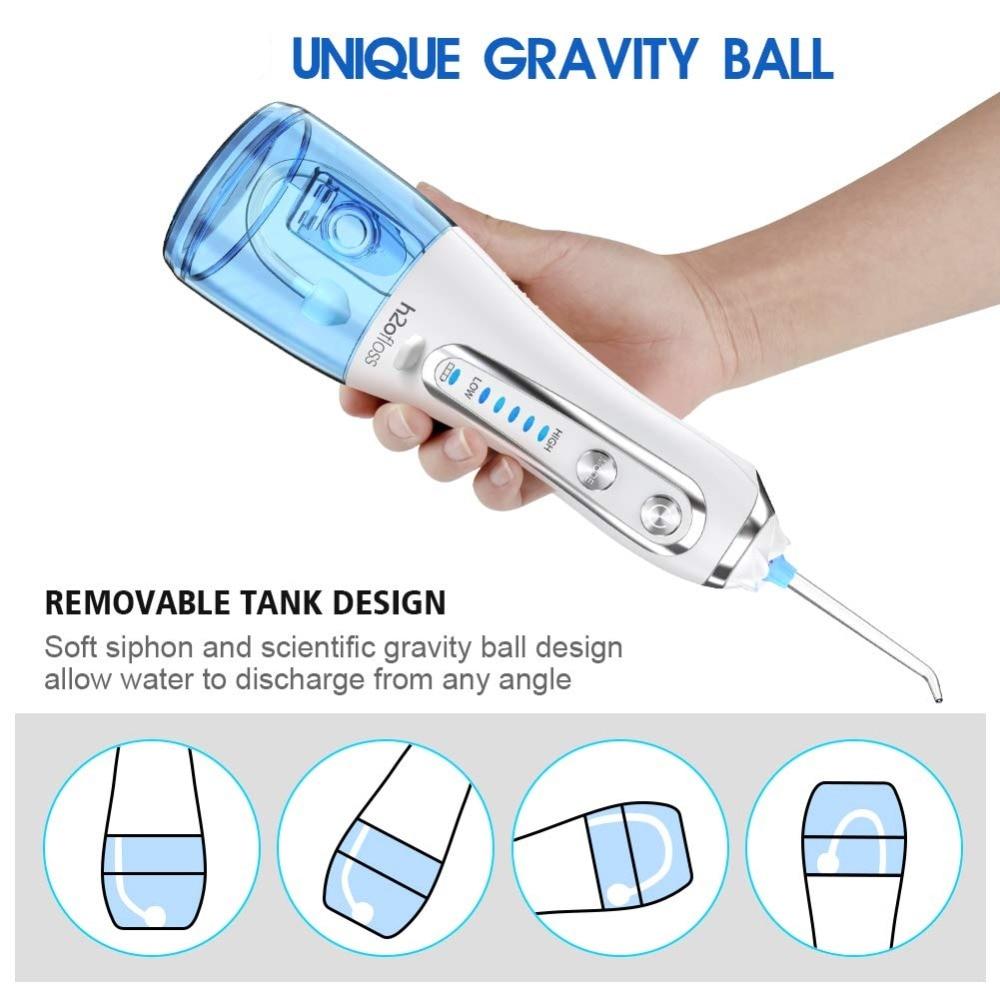 ONLY REPLACEMENT NOZZLES SET :-
5 Pcs Attachments Set Product Description
1.Product Name: 100% New Brand Oral Irrigator Replaceable Nozzles Set
3.Material: 100% High Quality ABS
4.Features: Multifunctional / Portable / Replaceable /
Portable
Storage Box
5.Suitable: Only Suitable For Most h2ofloss Brand Electric Oral Irrigator
6.Package Size: Approx 12cm x 7cm x 2cm
Package Included: (Not Include Oral Irrigator)
(Not Include Instruction Manual)
6 Pcs Attachments Set Product Description
1.Product Name: 100% New Brand Oral Irrigator Replaceable Nozzles & Toothbrush Head Set
3.Material: 100% High Quality ABS
4.Features: Multifunctional / Portable / Replaceable / Toothbrush Head /
Portable
Storage Box
5.Suitable: Only Suitable For Most h2ofloss Brand Electric Oral Irrigator
6.Package Size: Approx 12cm x 7cm x 2cm
Package Included: (Not Include Oral Irrigator)
(Not Include Instruction Manual)
7
Pcs Attachments Set

Product Description
1.Product Name: 100% New Brand Oral Irrigator Replaceable Nozzles & Toothbrush Head 7 Pcs Set
3.Material: 100% High Quality ABS
4.Features: Multifunctional / Portable / Replaceable / Toothbrush Head / Storage Box
5.Suitable: Only Suitable For Most h2ofloss Brand Electric Oral Irrigator
6.Package Size: Approx 12cm x 7cm x 2cm
Package Included:
(Not Include Oral Irrigator)
(Not Include Instruction Manual)